Free Comic Book Day 2016
Saturday May 7, 2016
A Special Thank You from Joe
Big appreciation goes out to all of the customers, participants and staff that helped make this years FCBD a huge fun-filled event! We raised over $1,300.00 for the Lancaster Library System which is a record amount.
Specifically, I want to thank:
Jimmy Cosentino and his staff Aaron Chernak, Bryn Black, Michael (Old School) Cosentino for sharing their awesome replica (It could have been the real one) of the Tardis with us.
All the member's of the Star Wars Garrison Carida of the 501st Legion, Vader's Fist. And a special thank-you to long-time customer, Mike Hinton(Sand Trooper) for facilitating the SW event!
Jeff McComsey of FUBAR
Tim Truman, creator and artist and long-time Comic Store Supporter.
Jason Lenox, illustrator
Mike Hawthorne, Deadpool artist
Cosplay Supergirl, Colonial Marine, Batman (our own Sunday man, Curt James), Joker (David Starr - "Joker Lives" Facebook) Chloe (Harley Quin)
A special thank-you to long-time customer, Tom Heisler, for providing the Batman costume.
I want to personally thank the Comic Store staff for helping make this day so special for everybody! Thanks to Brett, Doug, Charlie, and Curt for a fabulous day.
Joe Miller - The Comic Store
It was a Great Time !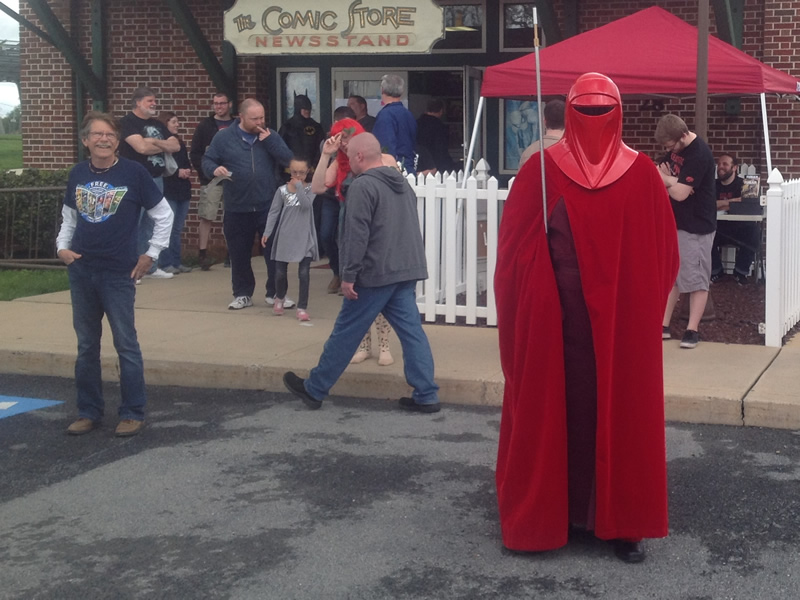 Where it was
The Comic Store
28 McGovern Ave
Station Square
Lancaster Pa. 17602
When it was
May 7, 2016
Saturday 10am to 8pm
"the FIRST Saturday in May"
What is Free Comic Book Day
As the name implies, Free Comic Book Day is a single day when participating comic book specialty shops across North America (like The Comic Store in Lancaster) and around the world give away comic books absolutely free to anyone who comes into their shops.
Free Comic Book Day 2016 marks our 15 year anniversary and we can't wait to celebrate!
Learn more on our Website, Facebook, Twitter, and Instagram for news and updates for Free Comic Book day 2016.
Only at The Comic Store - Lancaster
As always, each customer receives one free comic book and for each additional copy, (there are probably way over 50 different ones to select from) we request that a donation of 50 cents be collected at the registers. All of the donated money will be used to buy graphic novels and books for the Lancaster County libraries
Special Guests
Artisan FX
We are proud and happy to announce that Owner, Creative Director, Finishing Specialist at Artisan FX Jimmy Cosentino will be joining us again all day displaying his amazing superhero and genre replicas. The surprise feature he is uncovering this year is Dr. Who's Tardis"!
Cosplay
All day there will be cosplay characters, including Star Wars (the Vader's Fifth 501 Legion Garrison Carida), Batman, Darth Vader, C3PO, Sandtrooper, Tuskan Raider, Bounty Hunter, Supergirl and many more.
FUBAR
10:00am - 2:00pm Jeff McComsey from FUBAR will be on hand. There are still copies left of the exclusive zombie comic book, War of the Roses, originally commissioned by the two stores facing each other over the river: Lancaster's "The Comic Store" vs York's "Comic Store West"
Chet Williamson
Chet Williamson is a valued local writer, who just wrote Psycho Sanitarium, a horror novel about Norman Bates. He will be with us from 2:30pm to 4:30pm.
Tim Truman
Tim Truman, creator of many characters (Scout, Grimjack and Hawken) and currently scribe of King Conan. will be on hand from 10:00am to 2:00pm.
Mike Hawthorne
Mike Hawthorne, independent creator of Hysteriaand one of the current illustrators of the Deadpool comic book will be on hand from 4:00pm - 6:00pm, sketching autographing copies. He has illustrated many mainstream books, like Conan and GI Joe.
Jason Lenox
Jason Lenox, freelance artist/illustrator will be there sharing and promoting his independent comics.
and MORE
These are only the highlights, for what is planed to be another all out party event. You can't afford to miss this !!!